Polyurethane foam does not degrade over time or add additional weight below your concrete slabs. This concrete raising technology has become the preferred solution for concrete leveling and concrete repair.
BENEFITS OF CONCRETE HERO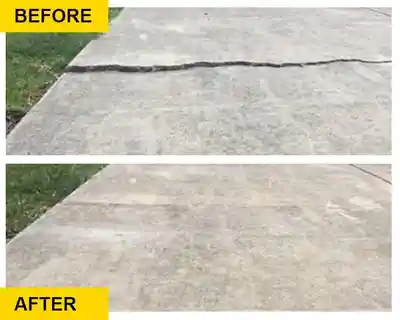 Affordable, permanent solution.
Fast-acting: The expanding polymer reaches its final strength and is ready to support weight within 15 minutes, as opposed to mud jacking which takes a whole day.
Controllable: Contractors can adjust the chemical reaction that causes the foam to expand and control how much the concrete is lifted.
Noninvasive: The equipment used is less bulky and our injection foam is less messy.
Environmentally-friendly: The material does not react with soil and does not release harmful chemicals.
Strong and lightweight:  Polyurethane foam does not impose added weight on unstable soil, but can still support a substantial load.
Waterproof:  Polyurethane foam will not wash away once it is cured.
TOP RATED CONCRETE CLEANING, REPAIR & LEVELING
Concrete Hero stabilizes, levels & raises sunken and uneven concrete slabs. We service residential and select commercial properties. Our highly skilled team can solve any of your concrete raisings, concrete leveling & stabilizing . We also offer the highest quality crack sealing, one of the best ways to prevent erosion from water under concrete slabs causing future sunken concrete.
Contact us for all your driveway, walkway, patio, garage floor, basement, or sidewalk repair needs! We lift and level any uneven or settled concrete slab you have on your property. Our polyurethane foam concrete lifting process will help prevent further settlement or erosion issues in the future.